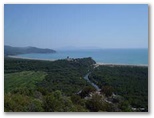 The Natural Park of the Maremma was created in 1975. It measures 9800 hectares extending along the coast. Protected area, its nature is almost intact. Its coastal portion is one of the only parts of the Italian coastline that is virgin. It is also one of the most beautiful.
The interior of the park is occupied notably by the last marshy fields near the mouth of the Ombrone. The wild life is rich, with large colonies of palustrine birds and some raptors.
The south of the park is formed by the hills of Uccellina. They are covered with thick Mediterranean vegetation, pinewood, old olive trees and others.
Its fauna includes wild boars, dwarfs, foxes, goats, various reptiles and many birds.
In the eastern part, at the foot of the hills, vast grassy plains stretch out, where the Maremman cows and horses graze.
The park also includes archaeological, Etruscan, Roman and medieval sites such as the towers and the Abbey of S. Rabano.
Map
Into the same category