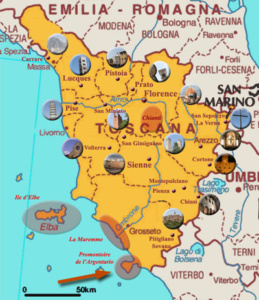 The promontory of the Argentario is in the south of the Tuscan coast, in the province of Grosseto.
Until the eighteenth century it was an island, but the deposits of alluvium formed little by little two lagoons of sand which connected it to the coast. Between these, is the village of Ortebello.
Off the western side of the promontory is the island of Giglio which can be reached from Porto San Stefano.
The interior of the promontory, territory of the municipality of Monte Argentario, is very hilly and not very accessible. The highest point is Mont Telegraph, 635 meters above sea level.
In the course of time, the man has laid out terraces to cultivate the vine and the olive tree.
A panoramic road winds around the peninsula.
Two villages are located on the coastline of the promontory: Porto Ercole in the south-east and Porto San Stefano in the north-west.
Map
Into the same category